13 Jun 2020
Recipe: Sunny Days Cocktail

Sunshine in a glass! This low ABV Gin cocktail is perfect for healthy hedonist celebrations or when you need a little light!
Recipe
Ingredients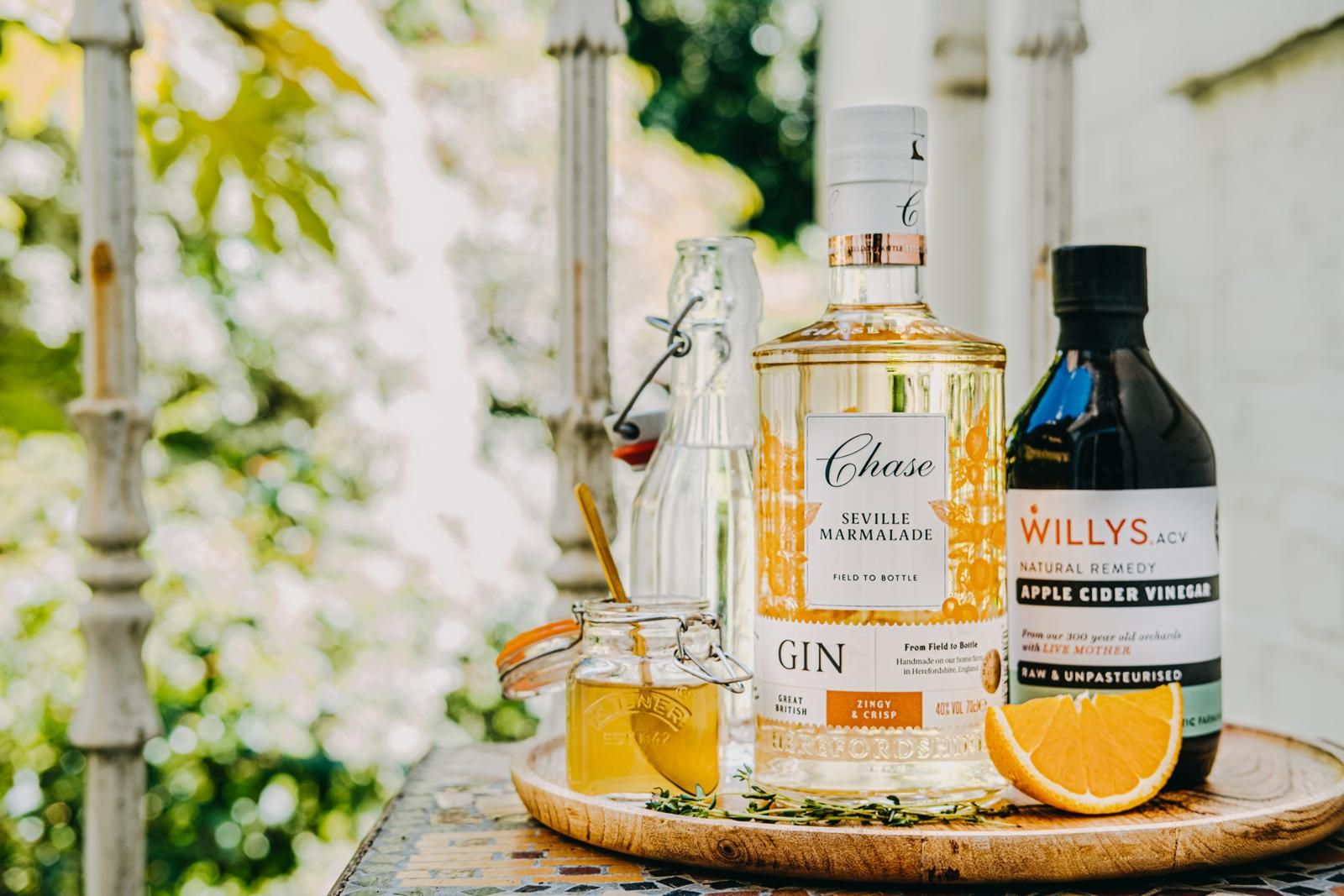 - 25ml Chase Seville Marmalade Gin
- 50ml Freshly Squeezed Orange Juice
- 10ml Willy's Apple Cider Vinegar
- 10ml Honey Water
- Top up with Soda water
- (Option to add a splash of tonic water)
Technique
Shake or Build
Glass
Wine Glass
Garnish
Thyme & Orange Slice
How to Make:
Build directly into the glass or combine all of the ingredients into your shaker except the soda water. If shaking give a quick shake to mix the ingredients. Top up with soda water and optional tonic water (it doesn't need it but if you're a big fan of tonic you might like it!) and garnish with a beautiful slice of orange and some fresh thyme. Et voila it's ready for you to enjoy!
Home-made Ingredient - Honey Water:
Honey water is a great way to balance your cocktail without adding anything nasty or making it too sweet.
Pick a good quality of honey ideally something from your local farmers. Did you know that eating honey that has been made in your area can help with allergies like hay fever as the bees have pollinated flowers you are in contact with?
Equal parts honey and hot water
Stir until you melt the honey
Keep the honey water in the fridge
(it will last a week or more)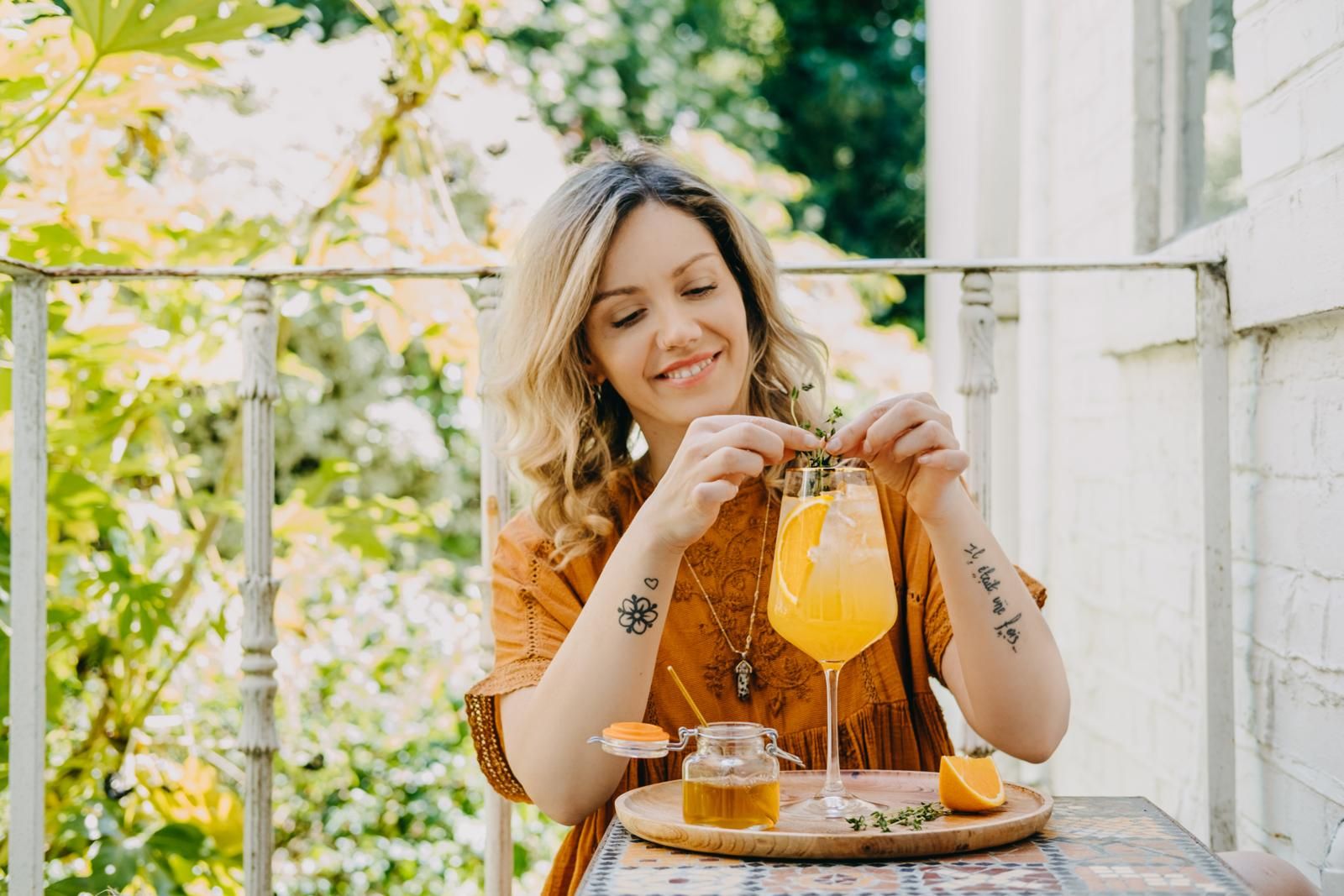 Notes & Favourite Flavours
Chase is an award-winning spirits company that make delicious and natural vodkas & gins with care and consciousness, they are a family business and farmers at heart: passionate about sharing what goes into the making from field to bottle
Chase Seville Marmalade Gin is carefully crafted by copper pot distilling Chase classic gin with an abundance of Seville orange peels. Zingy and crisp with wonderful sweet bursts of fresh orange and zesty citrus. It mixes perfectly with lots of ice, a premium tonic and garnished with an orange slice or in a mindful cocktail like this Sunny Days!
Willy's Apple Cider Vinegar, one of nature's gifts made from the humble apple. So much more than a cupboard staple! Willy's ACV with 'The Mother' contains probiotic bacteria, acetobacter and lactobacillus; plus with a ph of 5, can help support an alkaline diet. Apple cider vinegar has various health boosting properties, including antimicrobial and antioxidant effects. Some studies show that it also offers health benefits: such as aiding weight loss, reducing cholesterol, lowering blood sugar levels, and improving the symptoms of diabetes.
---
About the Author
Camille Vidal, the founder of the mindful drinking brand and creative consultancy La Maison Wellness, has spent her career as a consultant and global brand ambassador most notably for St-Germain and the Bacardi family of brands. She is internationally recognized as a leading voice in the drinks industry and now combines her craft and expertise into the low/no ABV category. Vidal, and La Maison Wellness, are now focused on their own mindful mission to guide brands and organization to drink well and elevate wellbeing and mindfulness in hospitality and wellness.
Find out more about La Maison Wellness at their website lamaisonwellness.com and their YouTube Channel 'La Maison Wellness'
Follow Camille Vidal on Instagram @madame_cami_vidal and La Maison Wellness @lamaisonwellness